Accommodation
Room reservations are recommended to be made before 12th March, 2005. The rooms are available until 14th May, after which rooms can be reserved by request only. Remember June is a congress-filled month in Helsinki, and last minute reservations are hard to come by.

Room reservation are valid on reception of hotel deposit equal to one (1) night's stay from the attendee and a confirmation letter from the conference office. Room reservation are to be fully paid in advance of the conference.

The reservation can be cancelled without expenses before 10th May, 2005; with one (1) night's fee between 11th and 31st May; after 1st June, the full charge is on the the attendee.
---
Hilton Helsinki Kalastajatorppa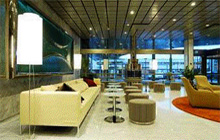 Kalastajatorpantie 1, Helsinki 00330
Phone: +358 - 9 - 45 811
This five-star hotel situated by the sea and surrounded by a park has seen many distinquished visitors along the years: Presidents Ronald Reagan, George Bush, and Premier Mihail Gorbatsov count among the guest. The hotel saw a major refurbishment in 2003, but stays true to its origins with a clean skandinavian interior design. A short tram trip provides an easy access to the city center. A wireless broadband connection is also available.

With a 500m walk to Ramsaynranta (street), you can take the bus number 502 directly to the Helsinki University of Technology - the congress site. Estimated time for the trip in the mornings: 13 minutes.
Room rates including buffet breakfast and VAT
double room
single room
shared double room

€ 215 / night
€ 180 / night
€ 108 / person / night
---
Radisson SAS Hotel Espoo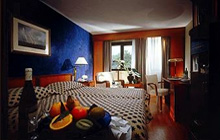 Otaranta 2, Otaniemi, Espoo 02150
Phone: +358 - 9 - 43 580
The closest to the congress site, the hotel was built to accomodate academic, corporate and congress visitors to Otaniemi. It stands in a soothing, somewhat isolated setting at the edge of the water surrounded by pine forests. The area is the "Silicon Valley" of Finland, with the Helsinki University of Technology, research institutes, and technological enterprises nearby. Wireless Internet access is also available in the lobby, meeting rooms and restaurant areas.

The hotel stands only about a kilometre's walk from the congress site. You can easily walk the beautiful shore route in less than 15 minutes.
Room rates including buffet breakfast and VAT
double room
single room
shared double room

€ 172 / night
€ 155 / night
€ 85 / person / night
---
Hostel Academica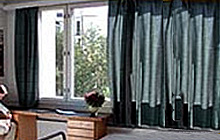 Hietaniemenkatu 14, Helsinki 00100
Phone: +358 - 9 - 13 11 43 34
This summer time hostel in the city is geared towards serving groups and congress travellers. Its big rooms (20-29m2) are equiped with a bathroom, a kitchenette and a refrigerator. In addition to the breakfast restaurant the building also houses an Unicafe, an university run restaurant serving meals for students with excellent value for money.

The Kamppi metro (underground) and bus station is only a 700m walk from the hostel. From there bus number 102 drives to the Congress site. Estimated travel time in the mornings: 22 minutes.
Room rates including buffet breakfast and VAT
double room
single room

€ 75 / night
€ 55 / night
---

AKRR05 – Themes – Dates – CFP – Submission – Programme – Venue – Registration – Accommodation – Travel – Committees – Links