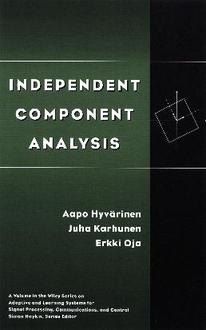 ICA and BSS group
We have studied independent component analysis (ICA) and blind source separation as well as their various extensions, and applied these techniques to a number of practical applications. See the subpages for more information on our current and earlier research projects, members of our ICA and BSS group with links to their home pages, a few demos, free software that we have developed, as well as links to some useful web sites.
In particular, on our 'Software' subpage you can find the FastICA package, which implements in various environments the fixed-point algorithm. It is currently the most popular ICA algorithm because of its fast operation and applicability to large-scale problems.
We don't have a separate publications page, but you can find links to the publications on their authors' homepages or possibly on the subpages of each research topic.
What is Independent Component Analysis?
Short introduction by Prof. Aapo Hyvärinen
Tutorial paper. This tutorial paper is still a good introduction to basic linear independent component analysis.
Introductory book "Independent Component Analysis" During the years, this 500-page book has become a standard reference on independent component analysis and its applications and extensions.
NEW! Advanced book "Handbook of Blind Source Separation, Independent Component Analysis and Applications" This handbook is intended as a reference for the researchers working in these fields. It contains up-to-date review chapters on different types of ICA and BSS methods as well as on many their extensions and applications.