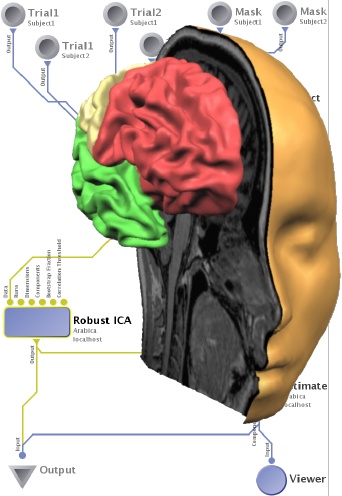 [an error occurred while processing this directive]
We develop new methods, based on machine learning and statistical signal processing, to solve particular questions in neuroinformatics. Our current research topics include the following:
Robust independent component analysis,
Independent subspaces in fMRI,
From elements to networks of neuronal activity,
Multiple Kernel learning,
Phase synchrony as a neuronal communication mechanism,
Single trial event related EEG/MEG,
Tissue segmentation in structural MRI,
Document mining in neuroscience publications.
Current
Alumni
PhD Mariana Almeida
PhD. Sergey Borisov
M.Sc. (Tech) Hugo Gävert
Leena Hallivuori
Anna Mannila
M.Sc. (Tech) Astrid Pietilä
M.Sc. (Tech) Jayaprakash Rajasekha
D.Sc. (Tech) Nima Reyhani
M.Sc. (Tech) Ulrike Scharfenberger
M.Sc. (Tech) Jan-Hendrik Schleimer
M.Sc. (Tech) Jyri Soppela
D.Sc. (Tech) Jaakko Särelä
M.Sc. (Tech) Sampo Viiperi
D.Sc. (Tech) Jarkko Ylipaavalniemi
The group meets every Friday, between 13:15 and 15:00, in room A346. Alternatingly, we discuss issues dealing with ongoing research in the group, as well as, active review of current publications in the interdisciplinary field of neuroinformatics.