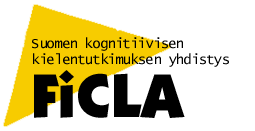 FiCLA Workshop: Cognitivism meets Dynamism
---
Finnish Cognitive Linguistics Association FiCLA organizes a workshop on semantics with the title "Cognitivism meets dynamism" on Tuesday, 14th of June, 2005 in Espoo, Finland. The workshop is associated with the AKRR'05 conference on Adaptive Knowledge Representation and Reasoning. The participation to the FiCLA workshop is free and preregistration is not necessary.
Venue
The workshop will be held at Helsinki University of Technology, in Otaniemi, Espoo, Finland, in hall T1 in the premisis of the department of computer science and engineering ("T building"). The address of the site is Konemiehentie 2, Espoo. For instructions on how to reach the area, please visit the AKRR'05 web site.
Workshop programme
Plenary speaker in the workshop is professor Heike Wiese, Humboldt University Berlin, Department of German Language and Linguistics. One of professor Wiese's research topics is modelling semantics as a linguistic interface system.

As an invited speaker talks researcher Anu Koskela, University of Sussex, Department of Linguistics and English Language. Other speakers include professor Esa Itkonen and docent Ahti-Veikko Pietarinen.
Programme committee
Oili Karihalme, University of Turku (chair)
Tero Kainlauri, University of Joensuu
Timo Honkela, Helsinki University of Technology
Lari Kotilainen, Universität zu Köln
Michaela Pörn, Åbo Akademi
Pauli Salo, University of Helsinki
Jari Sivonen, University of Oulu
Heli Tissari, University of Helsinki
---